Retail Butcher
This job is no longer accepting applications.
RETAIL BUTCHER
Looking for friendly, dependable, hardworking applicant for a Part-Time or Full Time Retail Meat Cutter position. Daytime hours. Experience required.
Apply in person or email resume to: info@stemmlermeats.ca
Apply
Your application has been successfully submitted.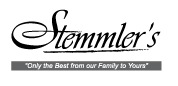 Only the best from our family to yours.